You've heard about Lloyd Mats products, but what are they all about? Why should you buy them? What sets us apart? That's easy! Read on.
Lloyd Mats has a variety of custom floor mats from which to choose. From Ultimat, Velourtex, LUXE, TruBerber and Classic Loop custom floor mats, these are all produced in our state of the art Northridge, California facility. Want to know the best part? All the materials are made in the USA. We support the US economy.
Our exact fit, precision cut mats are available for vehicle applications from the 1950s to the present and include many one-piece mats for complete passenger area coverage, trunk and cargo areas. Lloyd manufactures custom auto mats in the above mentioned materials, rubber and clear vinyl, all specifically designed for automotive use.
Our custom fit carpet floor mats are available in over 100 colors to match or compliment any OEM carpet color. We offer over 1000 licensed automotive trademark emblems, lifestyle, military and personalized embroidered designs on our carpet mat products. We want your car to be like your home. Make it unique and distinctly you.
Licensed trademark emblems are available for the following nameplates: Buick, Cadillac, Camaro, Chevrolet, Corvette, Chrysler, Dodge, Ford, GMC, Hummer, Lincoln, Mustang, Oldsmobile, Plymouth, Pontiac, Porsche, Saab, Shelby among others.
Lloyd Mats all weather Rubbertite, NorthRidge and clear vinyl Protector Mats are made to the same exact fit, custom patterns as our carpet mats, giving Lloyd Mats the most complete offering of materials, applications and custom designs in the automotive industry.
We want you to enjoy our products. We want your car to stand out, to relay who you are. Don't go for something generic. Go for Lloyd Mats–made in the USA!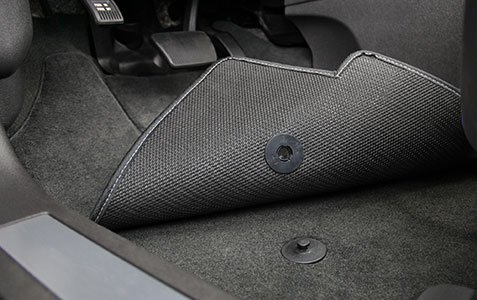 Lloyd Mats are the safest car floor mats in the automotive floor mat industry. Never worry about the safety and security of your family. Lloyd Mats are reliable.
Lloyd Mats has been involved in the evolution of safety in the car floor mat industry, well before the auto manufacturers and the overall aftermarket floor mat industry in general. The safe use of floor mats is Lloyd Mats prime goal. Lloyd Mats is a pioneer in the development of anchoring devices to keep floor mats safely in position in the floor of the vehicle.
It is a prime directive of Lloyd Mats design and manufacturing process to keep our floor mats from interfering with any controls, such as brake, accelerator, or clutch pedals. Lloyd Mats are also carefully shaped to avoid interference with seat movement and cargo storage devices. Be comfortable as well as safe.
All Lloyd Mat sets involving driver floor mats come equipped with mechanical anchoring devices. Lloyd Mats are compatible with anchor hardware such as hooks or posts, provided by the auto manufacturer. If vehicles come without anchors on the floor from the auto manufacturer, Lloyd Mats provides an easy to install hook and grommet system to keep our mats in place.
Lloyd Mats are also carefully designed and constructed so the mat fits perfectly in the contours of the vehicle. The snug fit of Lloyd Mats also inhibits floor mat movement.
The stiffness of Lloyd Mats as well as their anti-skid composition rubber TractionBac™ also helps prevent car floor mat movement.
Lloyd Mats has been a pioneer in the development of custom auto floor mats products for the automobile industry for over 35 years.
Be it truck floor mats, all weather floor mats, or custom auto floor mats, we've got it what it takes to make your car more like your home. Lloyd Mats is a leader in the creation of materials designed for the rigorous environment of automotive use.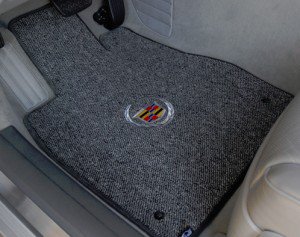 Nylon is the strongest material in the creation of yarns for carpet. Lloyd Mats uses what are called continuous filament lament nylon yarns, which are the strongest of the nylon yarns and provide the greatest wear characteristics.
Lloyd Mats goes a step further by using a two-ply yarn for our car floor mats, which is the process of twisting two strands of yarn together and heat-setting that twist.  This creates a more dense yarn that is then tufted into a backing material to create the top or the carpet face.
Carpet backing materials determine how stiff the carpet feels as well as its water and skid resistance.
Lloyd Mats was the first in the car floor mat industry to create a carpet backing with several layers. This means we have multiple layers of latex to provide stiffness to resist wrinkling. Multiple layers of polypropylene mesh for tufting the yarn and preserving the integrity of the finished car mats shape. Last, we add a final layer of composition rubber

TractionBac™ for skid resistance to help keep the carpet from moving in the floor of the vehicle.
Think of it like a tasty peanut butter and jelly sandwich. The combination of the backing layers makes a sandwich that helps keep moisture from reaching the vehicle's original floor carpet. Lloyd Mats, the name to remember for car floor mats.