Lloyd Mats has been a pioneer in the development of custom auto floor mats products for the automobile industry for over 35 years.
Be it truck floor mats, all weather floor mats, or custom auto floor mats, we've got it what it takes to make your car more like your home. Lloyd Mats is a leader in the creation of materials designed for the rigorous environment of automotive use.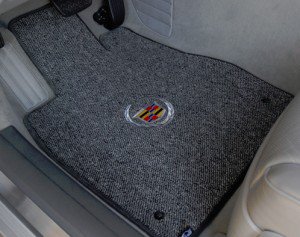 Nylon is the strongest material in the creation of yarns for carpet. Lloyd Mats uses what are called continuous filament lament nylon yarns, which are the strongest of the nylon yarns and provide the greatest wear characteristics.
Lloyd Mats goes a step further by using a two-ply yarn for our car floor mats, which is the process of twisting two strands of yarn together and heat-setting that twist.  This creates a more dense yarn that is then tufted into a backing material to create the top or the carpet face.
Carpet backing materials determine how stiff the carpet feels as well as its water and skid resistance.
Lloyd Mats was the first in the car floor mat industry to create a carpet backing with several layers. This means we have multiple layers of latex to provide stiffness to resist wrinkling. Multiple layers of polypropylene mesh for tufting the yarn and preserving the integrity of the finished car mats shape. Last, we add a final layer of composition rubber

TractionBac™ for skid resistance to help keep the carpet from moving in the floor of the vehicle.
Think of it like a tasty peanut butter and jelly sandwich. The combination of the backing layers makes a sandwich that helps keep moisture from reaching the vehicle's original floor carpet. Lloyd Mats, the name to remember for car floor mats.